Sizing + Fit 
Model is 5'2 and is wearing a size medium
Snug fit and stretchy fabric. 
Item Details 
Body-con style midi skirt
Functional side pockets
Back slit
Unique distressing
95% Polyester 5% Spandex
Size small: Waist - 27'', Hip - 37'', Length - 31''
Size Chart
| | | | | |
| --- | --- | --- | --- | --- |
| Size | S | M | L | XL |
| Size(US) | 2-4 | 6-8 | 10-12 | 12-14 |
| Bust | 35.4 | 37.0 | 38.6 | 40.2 |
| Waist | 27.6 | 29.1 | 30.7 | 32.3 |
| Hip | 37.8 | 39.4 | 40.9 | 42.5 |
| Length | 38.2 | 38.6 | 39.0 | 39.4 |
| Sleeve Length | 24.8 | 25.2 | 25.6 | 26.0 |
Item Measurements:
We strongly suggest you have your measurements taken and use them as a reference when selecting an items size. Measure yourself by following the guide below.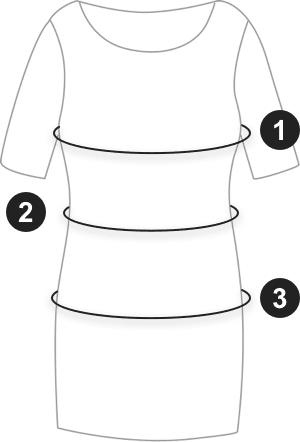 Measure under your arms around the fullest part of your bust. Make sure to keep the tape level!
Make sure the measuring tape fits comfortably as you measure around the narrowest part of your natural waist.
Stand with your feet together, and measure around the widest part of your hips.
Please Note:
The size charts may vary due to different products or suppliers. Measurements shown in the size guide refer to measurements of the garment, and not body measurements.
Made of different fabric, the elasticity of clothing varies. Please check the elasticity description on our product page. Usually, you need to add some margin from the garment measurement to body measurement.
How long will it take to ship my order?
All orders will ship within 7-10 business days. After your order has shipped, you will immediately receive an email containing tracking information for your order. Based on current shipping delays due to COVID-19, you should expect to receive your order in about 2 weeks. If there are any severe delays lasting more than 4 weeks, please email us: info@rusticproverb.com and we will locate your order.
Who can I contact regarding issues with my order?
Any questions, comments, or concerns about any part of the ordering process or products should be sent via email to info@rusticproverb.com. Please allow 48-72 hours for an email response. 
Sizes 1X-3X can be found in the "Rustic Curve" section of our website. Please visit this page to find styles that will fit up to size 3X. 
What size should I order?
Please check our Size Chart located at the bottom of each page on our site. You should also check the specific item description box on each product page. This will let you know about particular fabrics and item measurements in some cases. You can also find item-specific size charts on the product pages of select items. This is location right above the "Add to cart" button.